The first CTR Nitro-Fueled Grand Prix* is live, which means it's the perfect time to give players some more details on how they can earn the goods!
The Nitro Tour Grand Prix has taken off, and with it comes new opportunities to unlock new characters, karts, and customization items in CTR Nitro-Fueled.**
One of the mechanics to unlock items is familiar – Wumpa Coins can be used to unlock characters, skins, and items in the game's Pit Stop. The other mechanic is new – Nitro Points. Nitro Points are earned by completing specific Grand Prix challenges and unlock a specific set of rewards which are showcased in each players' Grand Prix Nitro Gauge.
With that high-level overview, let's dive in to a few specifics of each.
Wumpa Coins:
If you've been racing in Crash™ Team Racing Nitro-Fueled since launch you've noticed that you earn Wumpa Coins after every race, as long as you're connected to the internet. In its most basic form, Wumpa Coin distribution is determined by a couple of different factors:
· The track you're racing on
· Your position at the end of the race
Not all tracks are created equal in terms of difficulty and length, so some tracks reward more Wumpa Coins than others. You will notice, for instance, that completing a race on Electron Avenue (with its sharp turns, electric barriers, and massive drops) earns more Wumpa Coins than finishing a race on Crash Cove (a more relatively straightforward track). There are plenty of Wumpa Coins to be earned on all tracks, but you will start to notice that as the track length and difficulty rises, so too does the amount of Wumpa Coins given as a baseline amount.
As the Wumpa Coin number changes per track, it also changes based upon where the racer finishes on that track. There are different amounts given per end position, per track: 1
st
place will earn you the most Wumpa Coins, 2
nd
place will earn you the second most Wumpa Coins, and 3
rd
place will earn you the third most Wumpa Coins. 4
th
through 8
th
position earns the same amount of Wumpa Coins as each other, so the challenge is on to crack the top 3 of every race!
It's Wumpa Time!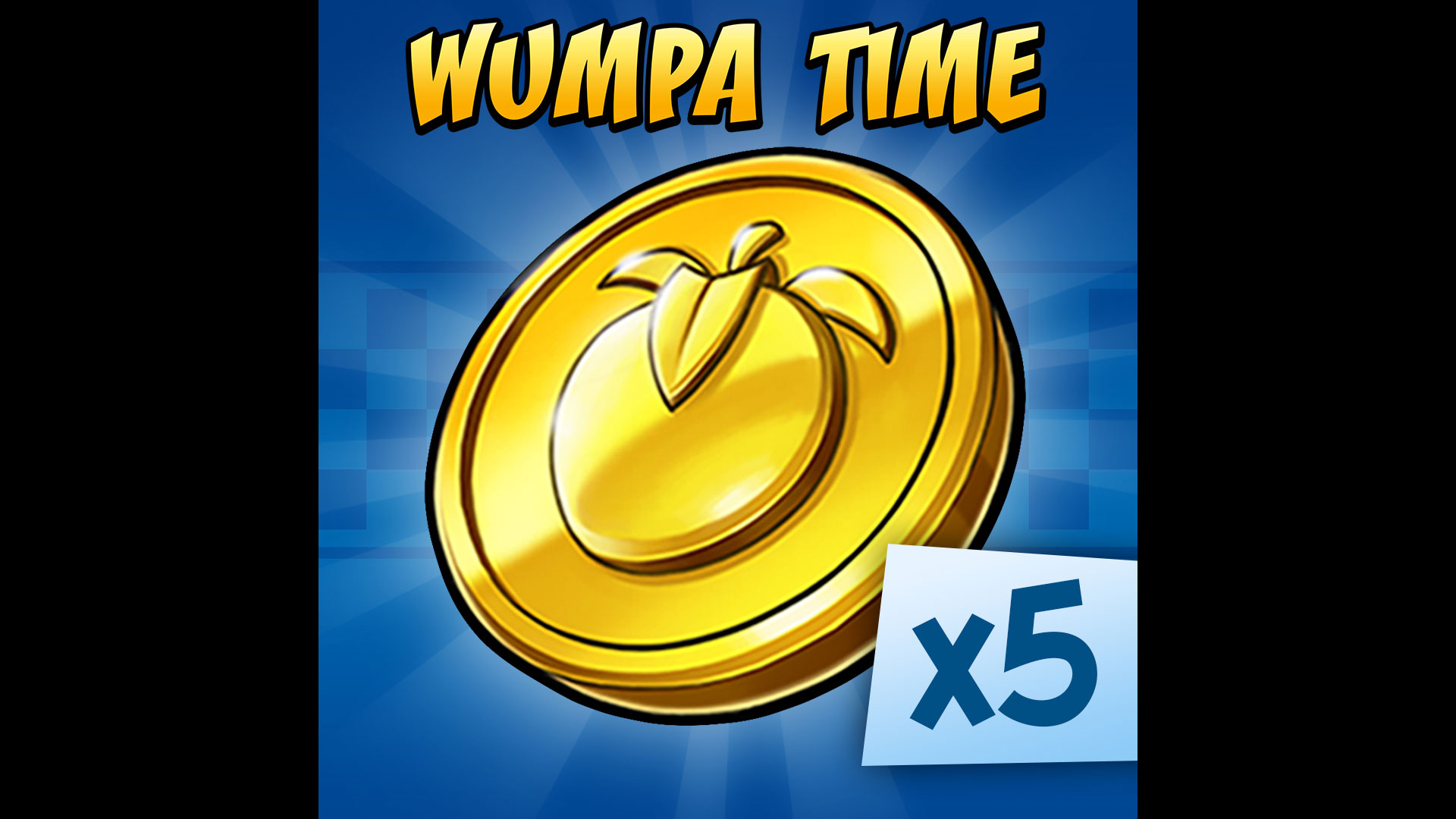 In addition to these two core factors which determine your Wumpa Coin amount for each race, there are also bonuses that allow you to really build up your Wumpa Coin bank.
You may have already noticed that there are times during each day where your Wumpa Coin values skyrocket after each race you complete in the Online Matchmaking game mode*. This is no fluke! For the first 30 minutes that a player races in the Online Matchmaking mode each day, they receive a 5x bonus - - this means that they get 5x as many Wumpa Coins as they would have received for that race based upon track length and final position alone. And 30 minutes means 30 minutes of actual wheels-on-the-track race time - - time spent in lobbies, in one of the offline game modes, or away from the game altogether doesn't count toward that time. For example: if you play a 2 minute race in the Online Matchmaking mode, then step away from the game for a few hours, then come back and play another 2 minute race in the Online Matchmaking mode, it would only count as 4 minutes out of the 30 minutes of 5x bonus time.
Your 30 minutes of 5x bonus re-sets at 5:00 PM PT every day (12:00 AM GMT) - - so be ready to take advantage of this daily Wumpa Time to rack up those Wumpa Coins!
Get Ready for Double Wumpa Weekends
But wait . . . there's more! Bring out your inner weekend warrior as you take advantage of Double Wumpa weekends. Race in the Online Matchmaking mode during any weekend and earn 2x the amount of Wumpa Coins you would have earned during the week for that same race. Double Wumpa Weekends begin 5:00PM PDT on Thursdays (Friday 12:00AM GMT) and end at 4:59PM PDT on Sundays (11:59PM GMT)†. And even better, this layers on top of the daily 5x Wumpa Time bonus for those days - - so be ready to take advantage of the opportunities to earn HUGE Wumpa Coin amounts during the weekends.
Nitro Points:
Nitro Points allow you to earn a specific set of rewards each Grand Prix season and load up your character and customization lineup with some additional items!
Nitro Points are earned by completing the set of challenges during the Grand Prix (if you need a refresher on the Grand Prix, you can find that here). As you earn Nitro Points during each Grand Prix season, you fill up your Nitro Gauge, and by reaching certain benchmarks on your Nitro Gauge you earn rewards such as karts, customization items, skins, and even new characters. Both the Nitro Gauge and list of challenges can be found in the "Grand Prix" section off of the game's main menu screen.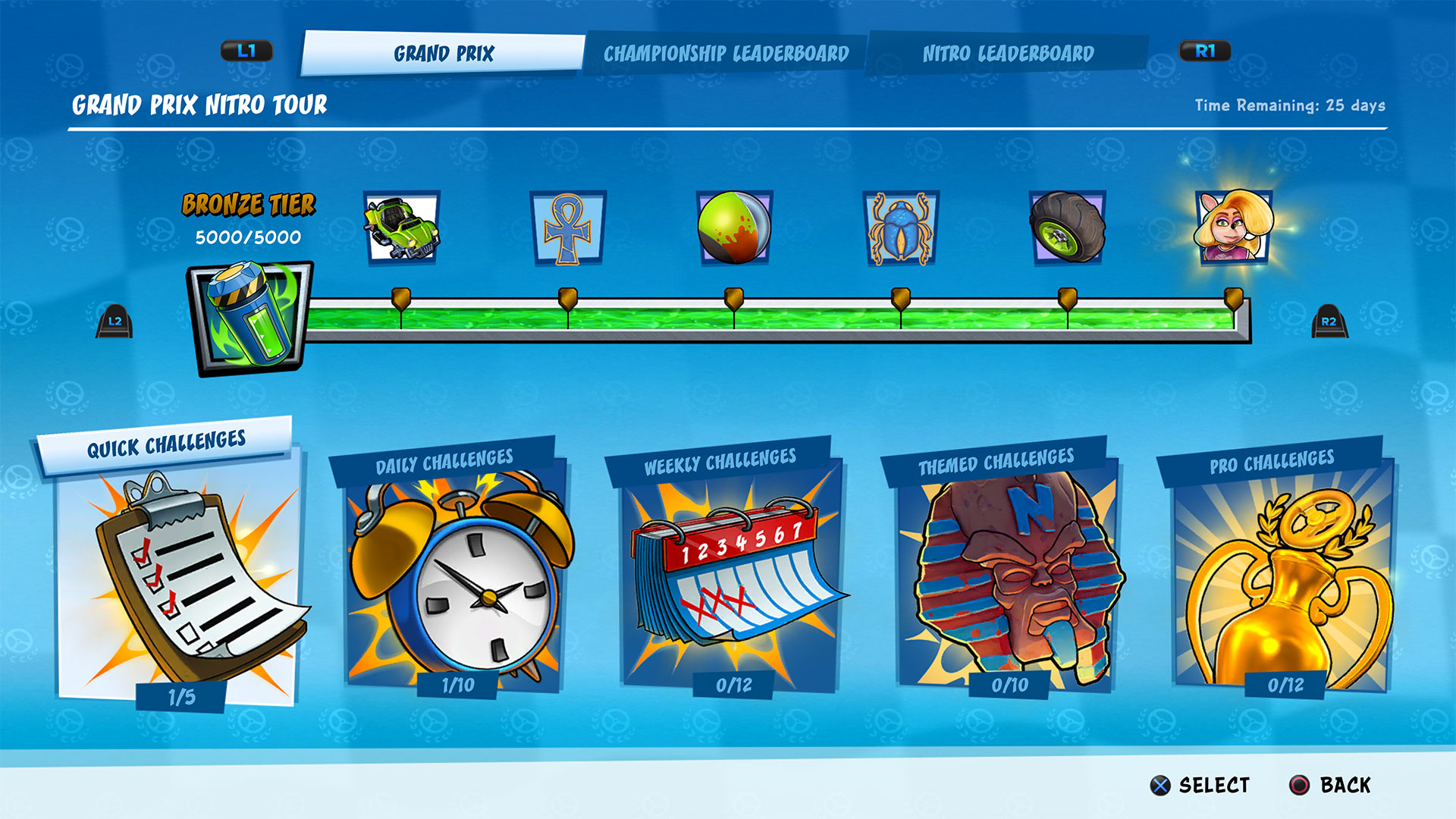 Face Tougher Challenges, earn more Nitro Points
The amount of Nitro Points you earn varies based upon the type of challenge you complete - - for instance, the simpler challenges found in the "Quick" or "Daily" challenge sections offer anywhere from 75 to 150 Nitro Points each (for simpler challenges such as winning a race, or performing 10 trick jumps with a certain character). This is opposed to the Challenges found in the "Pro" section, which offer more hefty Point amounts - - anywhere from 250 to 750 Nitro Points (for more difficult challenges such as winning a race driving in reverse during the last lap).
Overall, these Nitro Points help you fill up that Nitro Gauge to earn more and more items as you race through the Grand Prix season. There are 3 tiers to your Nitro Gauge: Bronze, Silver, and Gold. Each tier requires you to reach a certain number of Nitro Points before you complete that tier (5,000 Nitro Points for Bronze, 12,000 Nitro Points for Silver, and 25,000 Nitro Points for Gold). This means that at some point you'll want to make sure you are tackling harder challenges in order to start reaching the higher tiers and earning the awesome rewards!
Bonus Nitro Points
One way to help boost your Nitro Points as you fill up your Nitro Gauge is by racing with one of the items with a Nitro Cannister indicator in the Pit Stop*.
When you visit the Pit Stop during each Grand Prix season, you'll see that there are certain items that have a Nitro Cannister over them with a percentage listed next to it. This indicates that players will get a boost to their Nitro Points during that Grand Prix season when racing with that item equipped. For instance, if you unlock a set of wheels in the Pit Stop which has a Nitro Cannister and +5% next to it, you will get a 5% Nitro Point boost when completing challenges when racing with those wheels.
Even better, the percentage increase stacks with each specially marked item you have equipped, so you have the opportunity to earn some serious Nitro Points by equipping several of these items at once!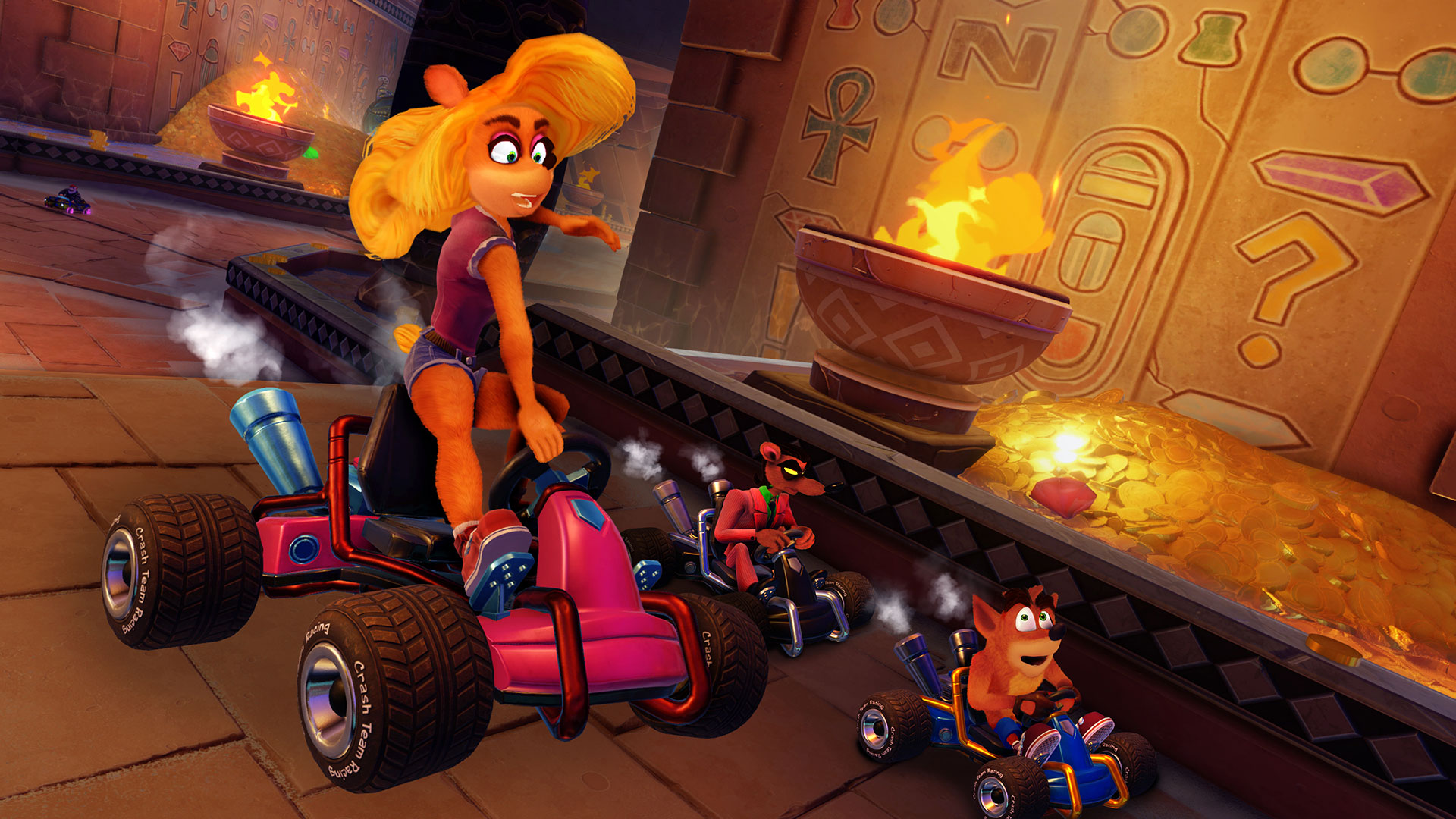 So that was a few more details into Wumpa Coins and Nitro Points - - be sure to take advantage of the ways to get some healthy boosts to your totals for each!