Fowl Play-by-Plays, Track Tips, and a whole lot of clucking; join Chick and Stew for the first state-of-play during the Nitro Tour Grand Prix!*
Welcome to the first season of the Crash™ Team Racing Nitro-Fueled Grand Prix, race fans! In a shocking turn of events, the Activision Games Blog has been temporarily taken over by two roving rooster reporters, who now have some space to squawk!
Your Grand Prix announcers, Chick Gizzard Lips and Stew are nested in their booth, ready to cackle about what kinds of egg-cellent events and rewards are waiting for players that join in on the month-long madness that is the Nitro Tour!
So without any further cock-a-doodle-ado, let's turn it over to these accomplished cluckers.
Chick: Hey there, Crash fans. It's your Grand Prix hosts Chick and Stew, and we're egg-cited to update you on the Nitro Tour Grand Prix, currently in progress. Racers around the world are logged in and filling their Nitro Gauges every day with Nitro Points earned by completing challenges big and small. Isn't that right, Stew?
Stew: Is this thing on?
Chick: Always is, Stew. Lots of racers have already unlocked Tawna, and she's quickly become a star racer in Crash Team Racing Nitro-Fueled! If players haven't unlocked Tawna yet, you just need to bank 5,000 Nitro Points.
Stew: That's a whole lotta Nitro!
Chick: It may seem like it, Stew, but you can do that with a couple days of completing challenges, so make sure you complete your Daily Challenges and then dip into the Weekly and Themed Challenges to fill up that Nitro Meter. Pro Challenges like 'Twice the Fun' are also good to go for. If you can hit two rivals with a single Bowling Bomb, you'll bank 500 Nitro.
Stew: And Tawna isn't the only new character to appear in the Nitro Tour. Of course, everybody's excited about the arrival of the Nitro Squad!
Chick: You can find these formidable Bandicoots in the Pit Stop. Each member of the Nitro Squad – Ami, Megumi, Liz, and Isabella -- is unlocked with Wumpa Coins. As you know, Wumpa Coins are earned in every race, but the better you do, the more you'll receive. And how can our racers do better, Stew?
Stew: Understand that vulnerability and open communication are two of the greatest gifts you can both give and receive in a relationship.
Chick: That's exactly right, Stew. They can also master the shortcuts in the new track, Twilight Tour.
Stew: I think I saw three of them out there, Chick.
Chick: The first is right after the initial turn. Jump through the gap in the low wall and use the ramp to shave off time you would have spent navigating the full turn.
Stew: The second shortcut is in the bazaar section of Twilight Tour, right after the second Boost Pad. Jump to the left and you'll touch down on a raised section of track. It's helpful to use a Mid-Air Power slide here so you don't smash into the bazaar wall.
Chick: The third shortcut is also in the bazaar area. As soon as you navigate that ninety-degree turn and drop into the interior stall section, veer to the right and use the Boost pad to jump up on top of the middle row of stalls. There's another Boost Pad up there and usually fewer racers to rub feathers – I mean, fenders with.
Stew: Fenders made outta feathers. Now that's a kart I'd love to see.
Chick: I saw you designing a kart the other day, didn't I? Why don't we share what that bucket of bolts looked like?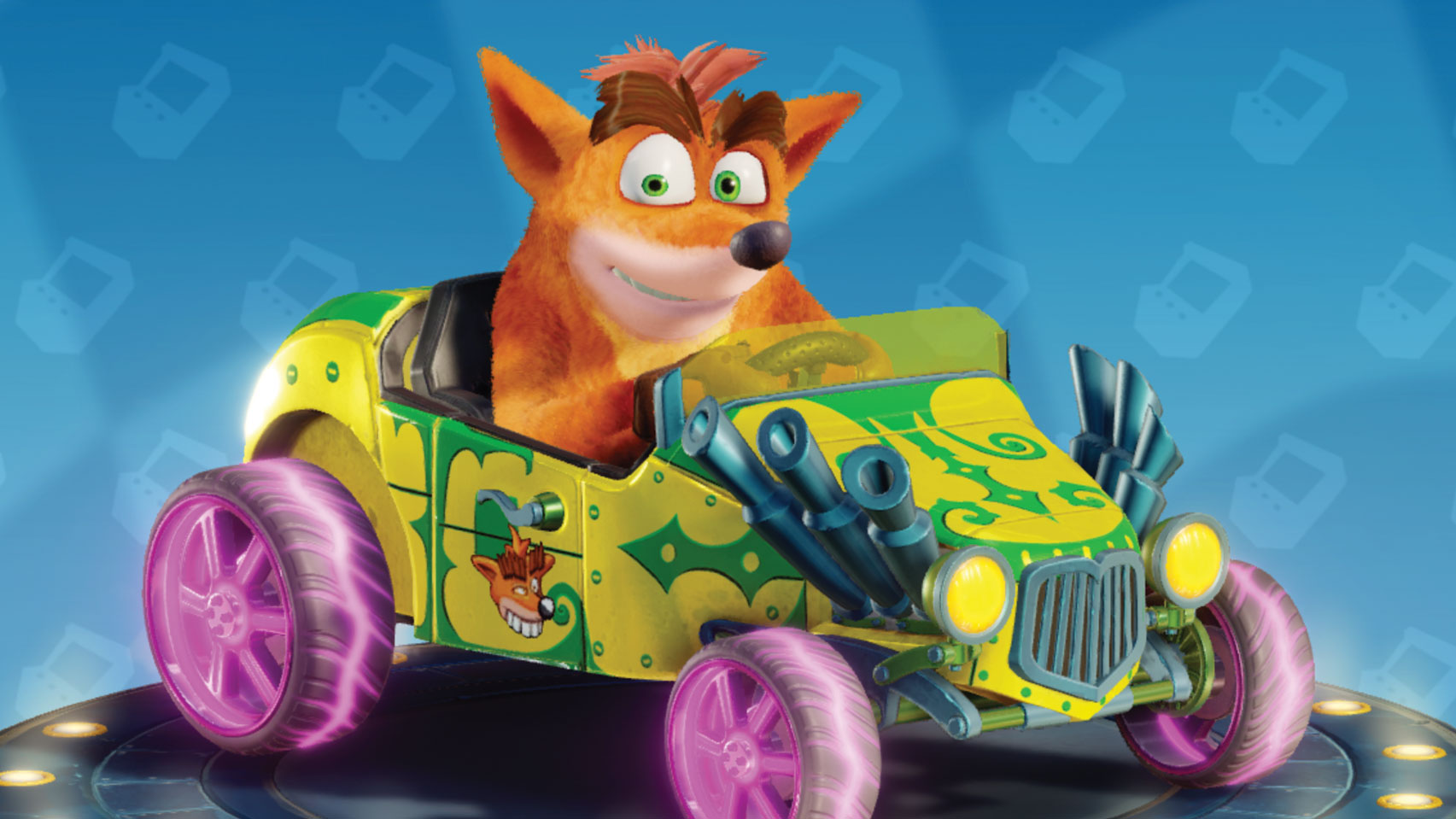 Stew: They say nobody remembers who took second place, but when you drive this sweet machine, you'll be tough to forget, even if you come in eighth.
Chick: I cannot argue with that. But it looks like we're just about out of time. Any last tips for players out there?
Stew: To unlock the Nitro Tour Pit Stop rewards, you need Wumpa Coins. Coming in first place will get you on track, but to really hit the jackpot, you need to take advantage of your daily and weekend bonus multipliers. During the first thirty minutes of racing every calendar day, re-setting at 12:00AM GMT, you'll get 5x the number of Wumpa Coins. And if you play on weekends, you'll get 2x the number of Wumpa Coins.**
Chick: You heard it here, straight from the chicken's beak. Thank you, Stew. And that takes us to the end of our time. Until our show is picked up again by Activision, this is Chick Gizzard Lips and Stew, wishing you the best out there in the Grand Prix!