Our Roblox Bee Swarm Simulator Codes has the most up-to-date list of codes that you can redeem for new Bees, Jelly Beans, Bamboo, and a whole lot more. This is a quick and easy way to gain up some currency which will have you leveling up faster and earning additional upgrades for your character and your pet bees!
How-to Redeem Codes in Bee Swarm Simulator
Look to the menu on the top left of the screen and find the gear icon. Click on that and the options will open up. At the top if is the following field: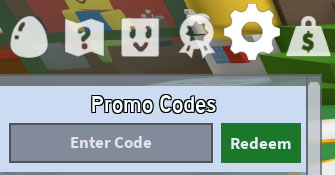 Just copy from the codes below and paste it into the "Enter Code" field and click redeem.
Bee Swarm Simulator Codes List
All of the Field Boosts and Winds buffs last for 15 minutes.
Some of these codes require that you be in the Bee Swarm Simulator Club to redeem them!
It's just a simple click or two to join, so I'd just do it to have access to the codes. Each code is listed in bold, the rewards are below them.
NEW: Valentine

+25 Strawberries
Activates Baby Love and Red Extract Buffs
Rose Field Boost
Rose Field Capacity

NEW: BigBag

Increases Bag Capacity temporarily.

NEW: Market

+10 Bitterberries
Pollent Boost
Pineapple Patch Market Boost
Sunflower Field Market Boost

FestiveFrogs

1x Box-o-Frogs: Summons 3 Frogs that last for 3 minutes.
Bamboo Field Boost (x3): +300% Bamboo Field Pollen.
Bamboo Field Winds (x3): +30% Instant Bamboo Field Conversion, +60% Bamboo Field Pollen.

JollyJelly

1x Royal Jelly: Transforms a bee into a random Rare, Epic, or Legendary.
1x Jelly Beans: Scatters various buff-granting beans on nearby flowers. Works best when shared.
1x Micro-Converter: Instantly converts all Pollen in your bag to Honey.
Strawberry Field Boost (x3): +300% Strawberry Field Pollen.
Strawberry Field Winds (x3): +30% Instant Strawberry Field Conversion, +60% Strawberry Field Pollen.

Leftovers

Pumpkin Patch Boost (x3)
Pumpkin Patch Wins (x3)
10x Strawberries
10x Blueberries
10x Pineapples
10x Gumdrops
1 Jelly Bean

4MilMembers

Clover Field Boost (x1): +100% Clover Field Pollen
Clover Field Winds (x4): +40% Instant Clover Field Conversion, +60% Clover Field Pollen
4x Field Dice: Boosts a random field, granting +100% pollen for 15 minutes.
1x Royal Jelly: Transforms a bee into a random Rare, Epic, or Legendary.
4x Micro-Converter: Instantly converts all Pollen in your bag to Honey.
Mother Bear Morph

500mil

Stump Field Boost (x2): +200% Stump Field Pollen
Bamboo Field Boost (x3): +300% Bamboo Field Pollen
5x Field Dice: Boosts a random field, granting +100% pollen for 15 minutes.
5x Gumdrops: Use while standing in a field to cover flowers in goo. Goo grants bonus honey.
5x Jelly Beans: Scatters various buff-granting beans on nearby flowers. Works best when shared.
5x Wealth Clock: x1.05 Honey Per Pollen
1h Conversion Boost
Science Bear Morph

BeesBuzz123

1x Cloud Vial: Summons a Cloud in the field you're standing in. Lasts for 3 minutes.
5x Gumdrops: Use while standing in a field to cover flowers in goo. Goo grants bonus honey.
3x Jelly Beans: Scatters various buff-granting beans on nearby flowers. Works best when shared.

ClubBasket

Blue Flower Field Boost (x2): +200% Blue Flower Field Pollen
Sunflower Field Boost (x2): +200% Sunflower Field Pollen
Mushroom Field Boost (x2): +200% Mushroom Field Pollen
10x Gumdrops: Use while standing in a field to cover flowers in goo. Goo grants bonus honey.
3x Jelly Beans: Scatters various buff-granting beans on nearby flowers. Works best when shared.
1x Royal Jelly: Transforms a bee into a random Rare, Epic, or Legendary.

ClubBean

Magic Bean: Plants a random Sprout in the field you're standing in.
Pineapple Patch Boost (x2): +200% Pineapple Patch Pollen

ClubCloud

1x Cloud Vial: Summons a Cloud in the field you're standing in. Lasts for 3 minutes.
1x Jelly Beans: Scatters various buff-granting beans on nearby flowers. Works best when shared.
1x Field Dice: Boosts a random field, granting +100% pollen for 15 minutes.
1x Micro-Converter: Instantly converts all Pollen in your bag to Honey.

ClubConverters

10x Micro-Converter: Instantly converts all Pollen in your bag to Honey.

Discord100k

Marshmallow Bee Buff: +50% White Pollen, +50% Capacity, +250% Conversion Rate for 30 minutes.
Rose Field Boost (x3): +300% Rose Field Pollen
Pine Tree Forest Boost (x3): +300% Pine Tree Forest Pollen
Spider Field Boost (x3): +300% Spider Field Pollen
3x Jelly Beans: Scatters various buff-granting beans on nearby flowers. Works best when shared.
3x Gumdrops: Use while standing in a field to cover flowers in goo. Goo grants bonus honey.
3x Moon Charm: Increases your bond with a bee by 250.
3x Tickets

Gumaden10T

Pepper Patch Boost (x1): +100% Pepper Patch Pollen.
Pepper Patch Winds (x3): +30% Instant Pepper Patch Conversion, +15% Pepper Patch Pollen.
Coconut Field Boost (x1): +100% Coconut Field Pollen.
Coconut Field Winds (x3): +30% Instant Coconut Patch Conversion, +15% Coconut Patch Pollen.
Blue Flower Field Boost (x2): +200% Blue Flower Field Pollen.
Blue Flower Field Winds (x3): +30% Instant Blue Flower Patch Conversion, +15% Blue Flower Patch Pollen.
1x Cloud Vial: Summons a Cloud in the field you're standing in. Lasts for 3 minutes.
15x Pineapple: Increase your bond with a bee by 25.

GumdropsForScience

15x Gumdrops: Use while standing in a field to cover flowers in goo. Goo grants bonus honey.

Marshmallow

1h Conversion Boost
Marshmallow Bee: +50% White Pollen, +50% Capacity, +250% Conversion Rate for 30 minutes.

SecretProfileCode

Ant Pass: Grants you 1 admission to the Ant Challenge.
Shocked Bee Jelly: Always transforms a bee into a Shocked Bee!
Oil: x1.2 Bee Movespeed, x1.2 Player Movespeed
Glue Buff: x1.25 Pollen From Bees, x1.25 Pollen From Tools
Enzymes Buff: +10% Instant Conversion, x1.25 Conversion Rate

Sure

Dandelion Field Boost (x3): +300% Dandelion Field Pollen
30m Conversion Boost
2,500 Honey

Teespring

Bamboo Field Boost (x3): +300% Bamboo Field Pollen.
Bamboo Field Winds (x3): +30% Instant Bamboo Field Conversion, +30% Bamboo field Pollen.
Marshmallow Bee: +50% White Pollen, +50% Capacity, +250% Conversion Rate for 30 minutes.

Tornado

1x Cloud Vial: Summons a Cloud in the field you're standing in. Lasts for 3 minutes.
3x Jelly Beans: Scatters various buff-granting beans on nearby flowers. Works best when shared.
1x Royal Jelly: Transforms a bee into a random Rare, Epic, or Legendary.

Wax
WikiAwardClock

5x Wealth Clock: x1.05 Honey Per Pollen

WikiHonor

Strawberry Field Boost (x3): +300% Strawberry Field Pollen.
10x Gumdrops: Use while standing in a field to cover flowers in goo. Goo grants bonus honey.
10x Pineapple: Increase your bond with a bee by 25.
1x Royal Jelly: Transforms a bee into a random Rare, Epic, or Legendary.
1x Stinger: Grants your bees x1.5 attack for 30 seconds.
5x Inspire

Wink

Dandelion Field Boost (×7): +700% Dandelion Field Pollen.
5x Tickets
5,000 Honey
Haste+
Black Bear Morph
Honey Codes
5,000 Honey: Buzz
5,000 Honey: Nectar
Ticket Codes
5x Tickets: 38217
5x Tickets: Bopmaster
5x Tickets: Cog
5x Tickets: Connoisseur
5x Tickets: Crawlers
5x Tickets: Roof