Our
Roblox Ghost Simulator Codes
has the most up-to-date list of codes that you can redeem for pets, hoverboards, and more. This is a quick and easy way to get a step up in the game, so you can catch a bunch of ghosts a whole lot faster and earn Ectoplasm and Gems!
How-to Redeem Codes in Ghost Simulator
It's a very simple process to redeem your codes in Ghost Simulator. Look to the left of screen for the blue Twitter icon that is right under the currencies you can earn. Press that button and you will open up the following menu: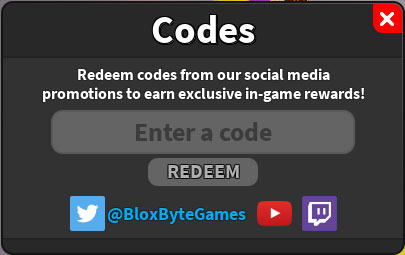 Click on the area that says "Enter a Code" and enter one of the codes from below. Once you've got it entered in correctly, you'll just need to hit the Redeem button and you will be given the reward!
Ghost Simulator Codes List
Here's a look at all of the currently available codes, as well as some you might have missed out on. Make sure to check back often because we'll be updating this post whenever there's more codes!
Live Codes
NEW - Dr. Dice Pet: JOV3N
Giggles Pet: HEART
Trippy Pet: SPIRAL
Blox Bytes Hoverboard: BB100K (Must be in BloxByte Games Group)
Mushi Pet: WEKNOW
Tri-Jet Hoverboard: JET
Firefly Pet: FIREFLY
Purple Pegasus Pet: R1FT
Dave Pet: SPAC3
Pets, Hoverboards, & What to do With Currencies
There's two currencies you can collect: Ectoplasm and Gems. You can use Ectoplasm to upgrade your backpack storage and your vacuum. These are how you collect ghosts, so it's important to make sure you work to get the best ones of these you possibly can. Gems are used to purchase Pet crates. You can earn Ectoplasm by catching and selling ghosts. Gems can be earned by completing quests, and will drop randomly after you catch a ghost.
Pets help increase the amount of Ectoplasm you collect from each Ghost, and also speed up the catch time for Ghosts. These are pretty important, so make sure to grab the pets that are available for free with codes because they will make your life a lot easier in the early stages of the game.
Hoverboards help you get around the map quickly, so having one of these is going to speed up the process of catching ghosts! Be sure to run through the early quests that are available to get access to this feature.