Our Roblox Pet Ranch Simulator 2 Codes post has the most up-to-date list of codes that you can redeem for to accelerate your collection of gold. These codes can make it easier early on in the game when you're trying to gain pets and level up your ranch!
How-to Redeem Codes in Pet Ranch Simulator 2
If you want to enter codes into Pet Ranch Simulator 2, you will need to hit the big MENU button and scroll down until you see the blue Twitter icon that is labeled Codes. Click on that and you should see the following screen: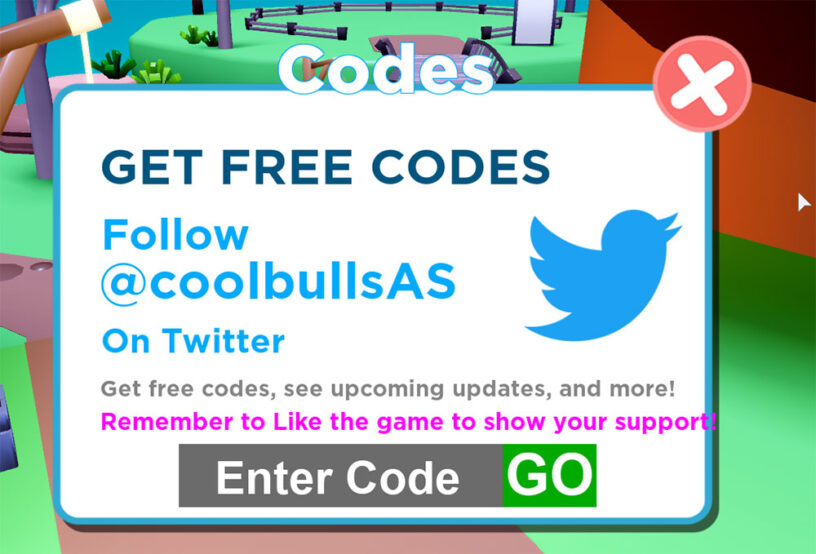 Copy one of the codes below and paste it into the "Enter Code" area shown in the image above. Hit the Go button and you should get yourself some boosts!
Pet Ranch Simulator 2 Codes
There's not many codes right now because the game was just released, but we'll be posting more the second they are available so check back often. Here's a look at all of the active and expired codes that we know of at the moment.
NEW - 2x All Boosts: UPDATE8
Love Bird Pet: VALENTINE
2x Coin Boost: UPDATE7
All Boosts: XBOX
2x Coin Boost: UPDATE5
2x Coin Boost: UPDATE4
2x Coin Boost: UPDATE3
All Boosts: GIFT
2X Coin Boost: UPDATE2
2X Coin Boost: UPDATE1
10,000 Coins: albatross
2X Coin Boost: Seer
2X Coin Boost: Launch
2X Coin Boost: SubtoRazorfishGaming
2X Coin Boost: FIGSTER
2X Coin Boost: BlueTeam
2X Coin Boost: PlanetMilo
YouTube Dog Pet: YouTube
If you're looking for codes the second they go live, be sure to follow Coolbull on Twitter!